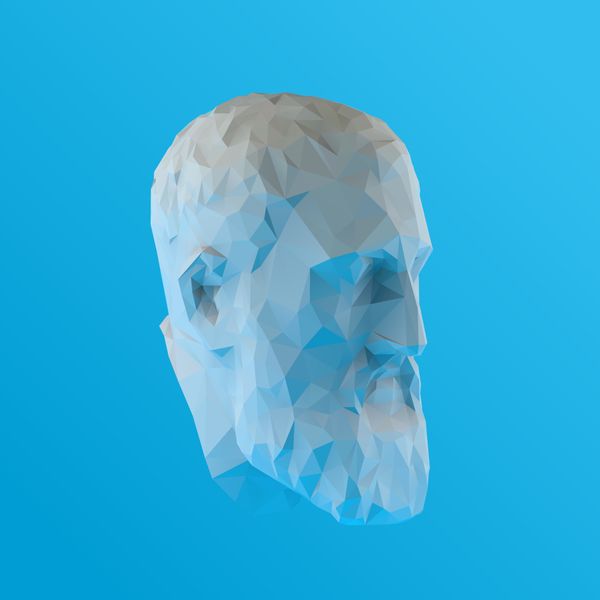 Stoic Cheat Sheet: Volume 2
In this second volume of the Stoic Handbook cheat sheets, you can read the essential wisdom of chapters 5-10 of Epictetus' manual, and listen to companion audio reflections.
---
🗒️
This is volume 2 of the Stoic cheat sheets for Enchiridion, featuring chapters 5-10.
Even though I create full Stoic breakdowns of ancient Stoic texts, I want to give my readers an easier way to navigate the content, especially as more and more posts, meditations, and audio lessons get added.
To help with this, I've decided to compile every 5 chapters of the Enchiridion breakdowns into a single cheat sheet, which contains the essential quotes and ideas from Epictetus, my diagrams, and a 10-minute audio lesson or guided meditation.
Even if you've read the full versions of these posts before, there is new content added as well as never-before-seen audio lessons. We also know from the science of learning that spaced repetition is vital for durable memory formation.
I'll be sending you the updated volumes of these cheat sheets as they come out, as well as a larger map to navigate them all and learn how to study Stoicism the proper way. This will serve as your handy Stoic reference guide.
If you missed, Volume 1 you can read it here.
Don't pride yourself on any assets but your own. We could put up with a horse if it bragged of its beauty. But don't you see that when you boast of having a beautiful horse, you are taking credit for the horse's traits? What quality belongs to you? The intelligent use of impressions.

— Epictetus
If you catch yourself feeling emotions of pride or arrogance over things you own, apply the following framework.
I/ Foolish Pride
Do not take pride over things that are not yours.
For example, if a sports car were able to speak and said, "I am proud to be an attractive sports car," then we might tolerate that.

But when you boast about having a beautiful sports car, you are taking credit for traits that are not yours.
To take pride in the traits of the sports car is foolish.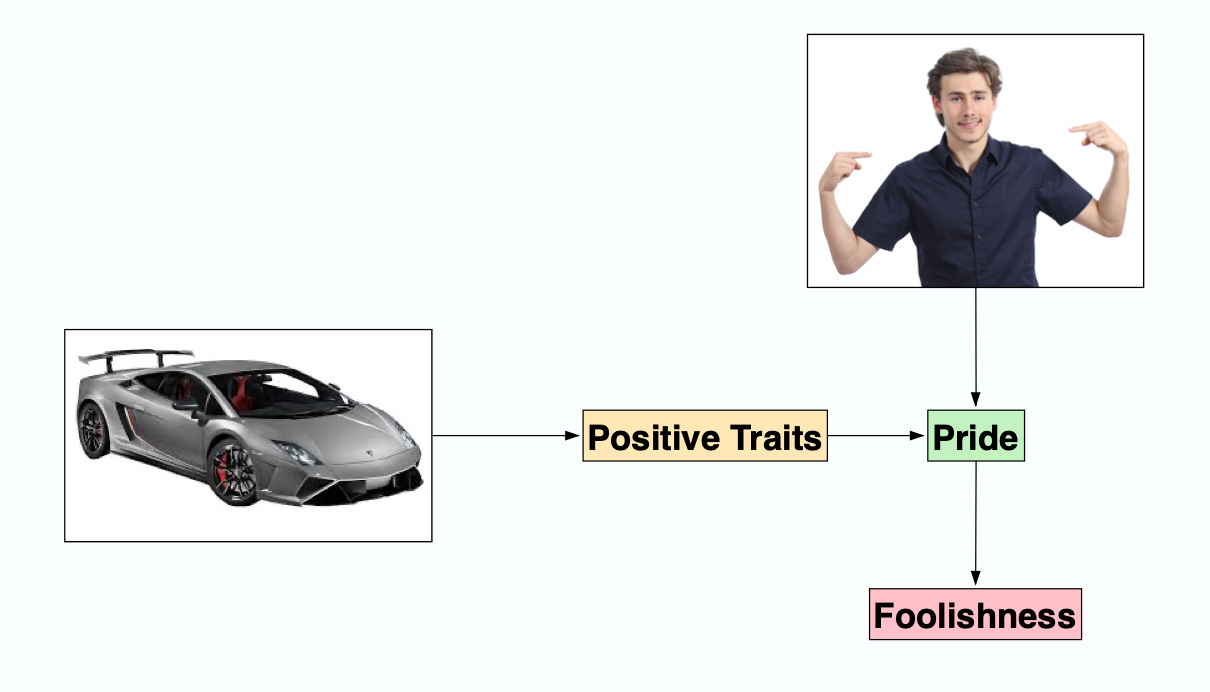 II/ Wise Pride
If it is foolish to take pride over traits that are not my own, what is mine to feel pride about?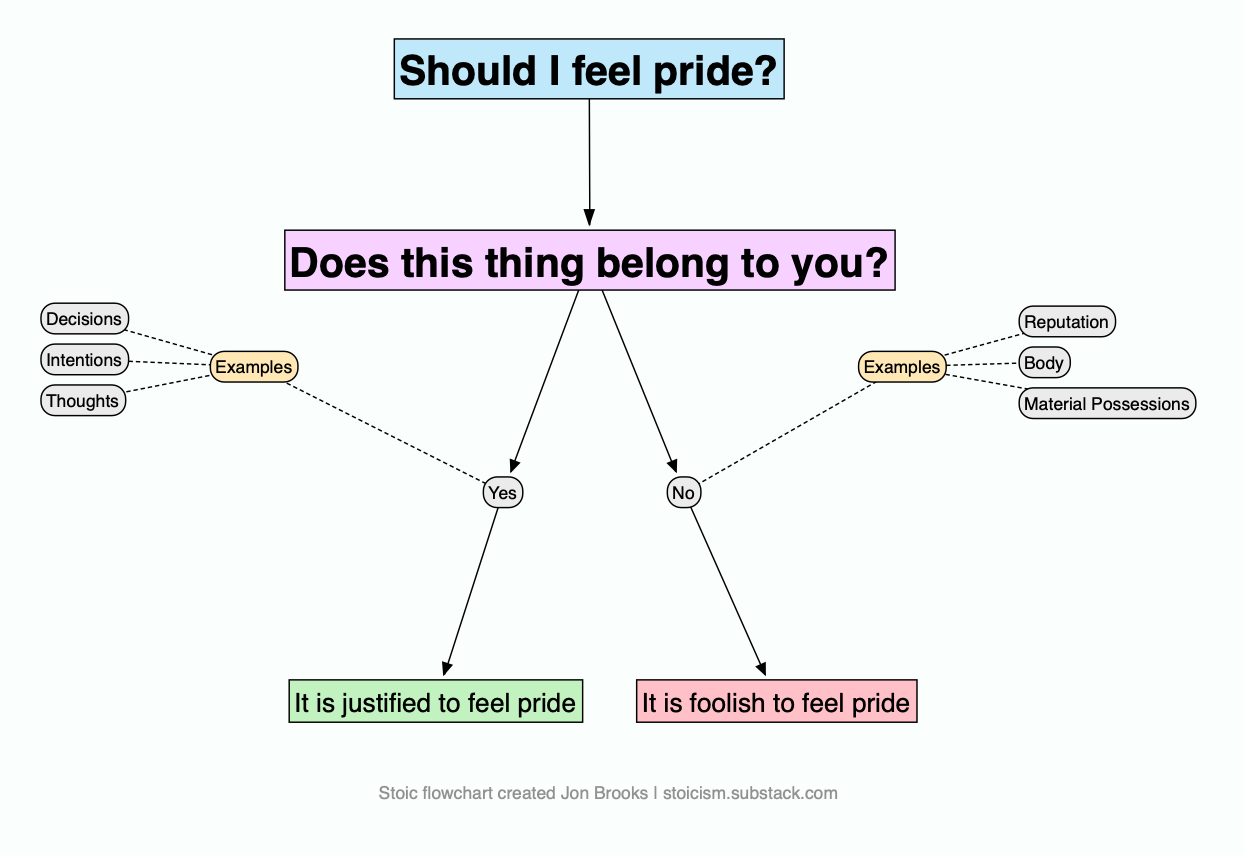 ---
If you are a sailor on board a ship that makes port, you may decide to go ashore to bring back water. Along the way you may stop to collect shellfish, or pick greens. But you always have to remember the ship and listen for the captain's signal to return. When he calls, you have to drop everything, otherwise you could be bound and thrown on board like the livestock.

— Epictetus
I/ Recognise Impermanence
Picture the following analogy:
You are traveling home on an airplane and stop halfway for a connecting flight.
While you are at the connecting flight's airport waiting for your plane, you may go and eat a nice meal and peruse the perfume shops.
But you must not forget about your next flight.
If you forget, you may be stranded in the wrong country until you eventually get deported.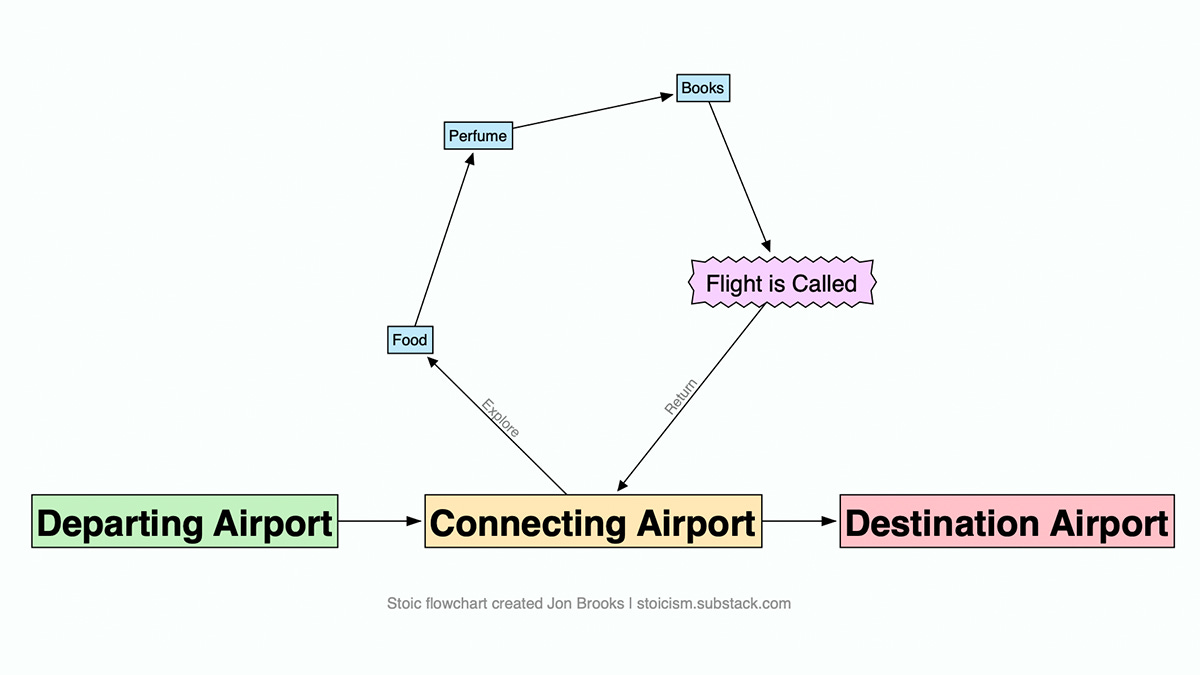 II/ Always Be Ready to Return
Instead of a nice meal and perfume, you have instead picked up a wife and child.
This is great, but when your next flight comes you must be prepared to leave them behind, and be okay with that.
III/ Don't Wander Too Far
If you are elderly, don't wander too far around the airport or you won't make your next flight when it gets called.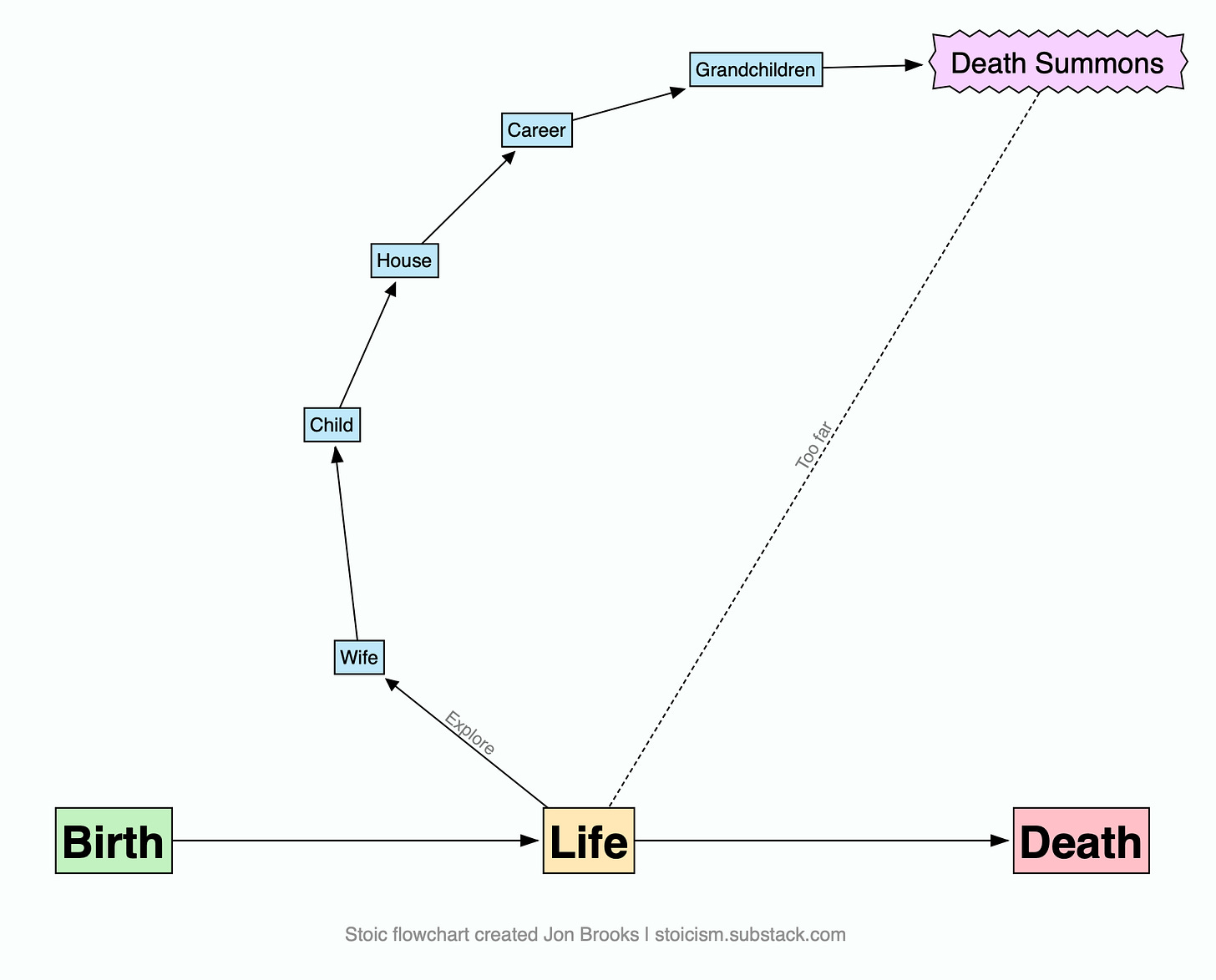 ---
Don't hope that events will turn out the way you want, welcome events in whichever way they happen: this is the path to peace.

— Enchiridion, Chapter 8, Epictetus
---
Sickness is a problem for the body, not the mind – unless the mind decides that it is a problem… Say this to yourself whatever the circumstance and you will find without fail that the problem pertains to something else, not to you.

— Enchiridion, Chapter 9, Epictetus
1/ Incorrect View: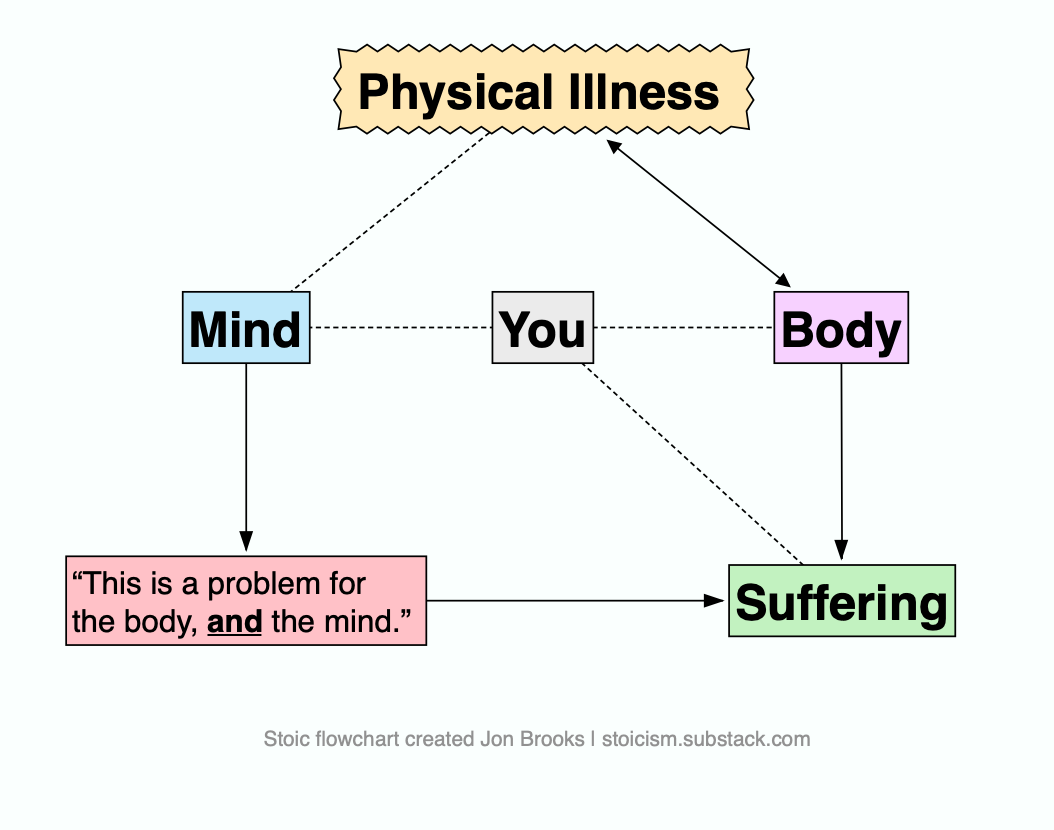 2/ Correct View: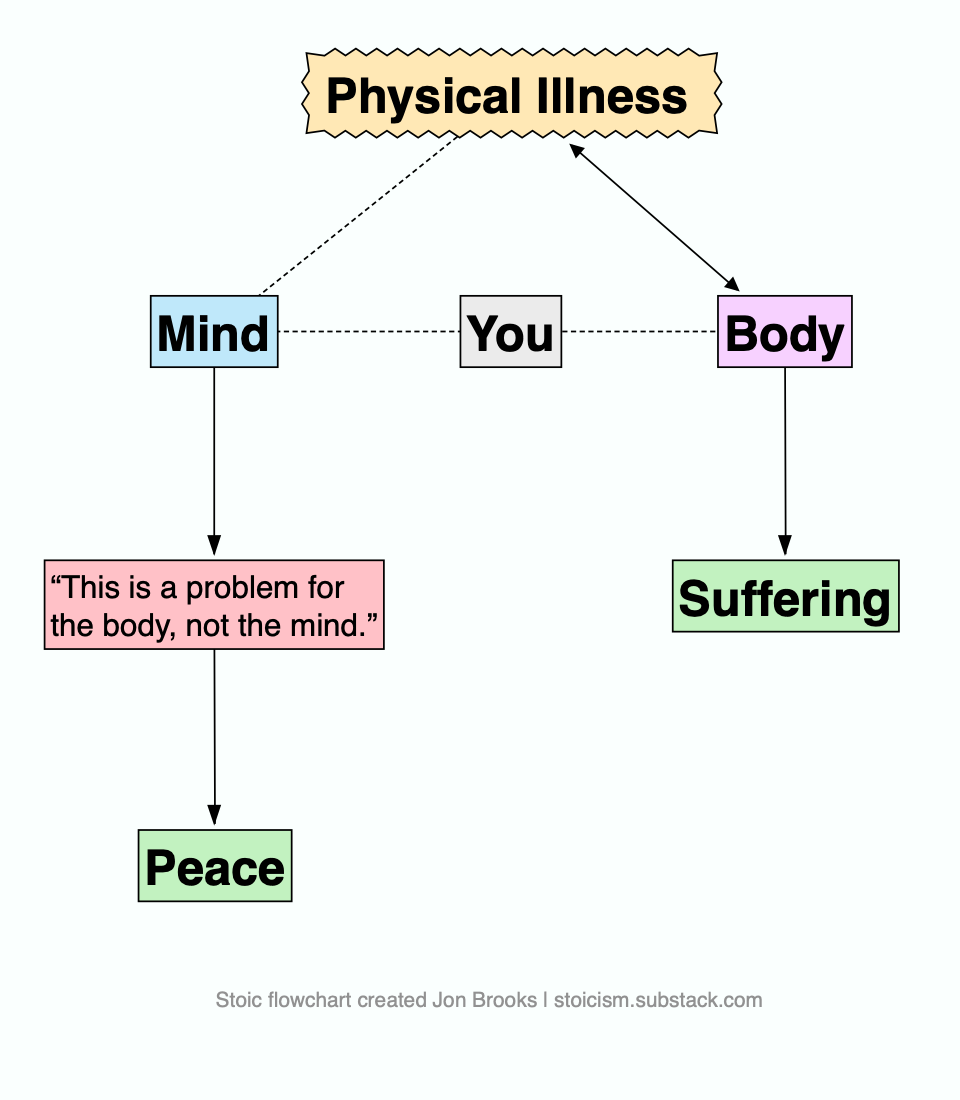 ---
For every challenge, remember the resources you have within you to cope with it. Provoked by the sight of a handsome man or a beautiful woman, you will discover within you the contrary power of self-restraint… In time, you will grow to be confident that there is not a single impression that you will not have the moral means to tolerate.

— Enchiridion, Chapter 10, Epictetus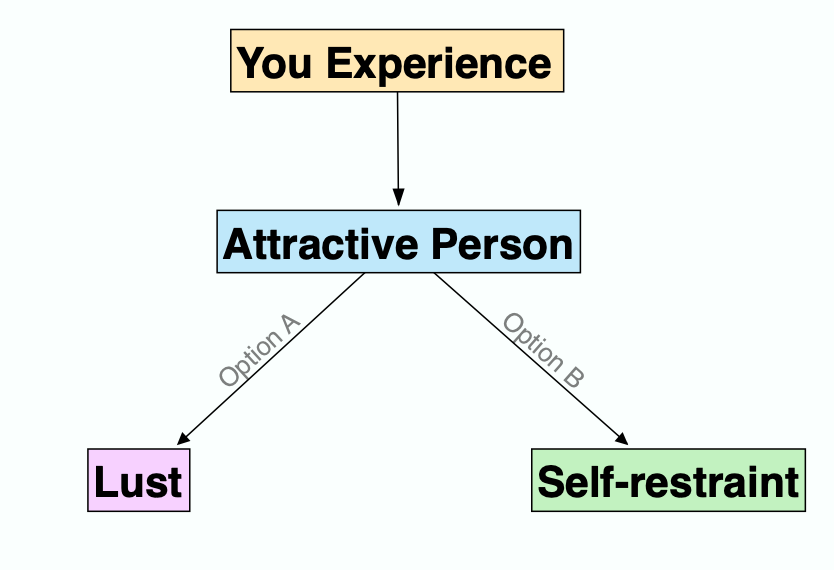 The same is true with pain, it will elicit the choice between victimhood and endurance, both are within you.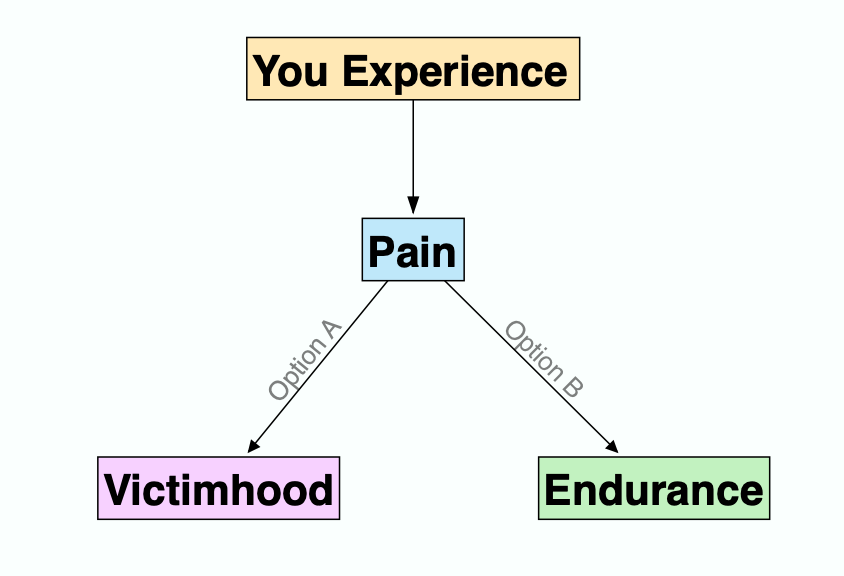 The next time you get insulted, be thankful because you will discover the virtue of patience.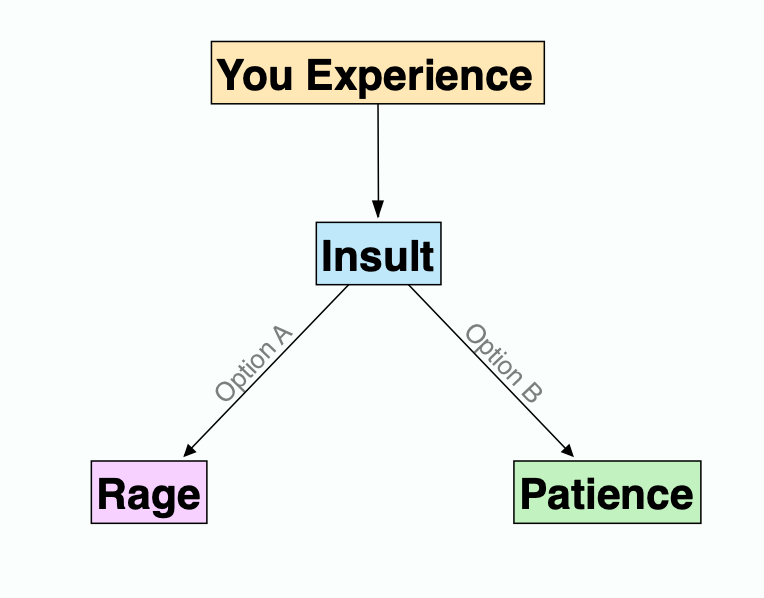 With enough practice, you will soon experience every challenge as a great opportunity to guide you toward virtue.